Thinkific Review: Is It the Best Course Creation Tool in 2022?
The online learning industry is witnessing exponential growth.
The global eLearning market is set to achieve a combined value of up to $325 billion by 2025.
And when you are talking about online course platforms, Thinkific is one of the first names that comes to mind.
Don't just take it from me, but look at the reviews from all across the world. Over 75 million people have taken a course on Thinkific.
As an educator, that's all the motivation you will ever need to get started. We're going to look at all the features of Thinkific and why it ranks as one of the best course creation platforms for coaches, entrepreneurs, and educators.
Let's dive into the review.
Disclaimer: This article contains affiliate links where I may receive a small commission at no cost to you if you decide to purchase a paid plan. However, these are the tools I fully recommend when it comes to launching online courses. You can read my full affiliate disclosure in my privacy policy.
The tagline of Thinkific, Power Your Education Empire, precisely describes what the platform is all about.
Thinkific is an online course platform that targets educators, business coaches, and entrepreneurs.
The platform allows you to create your online courses using different content formats, such as videos, text, PDF, quizzes, discussions, and many similar content styles.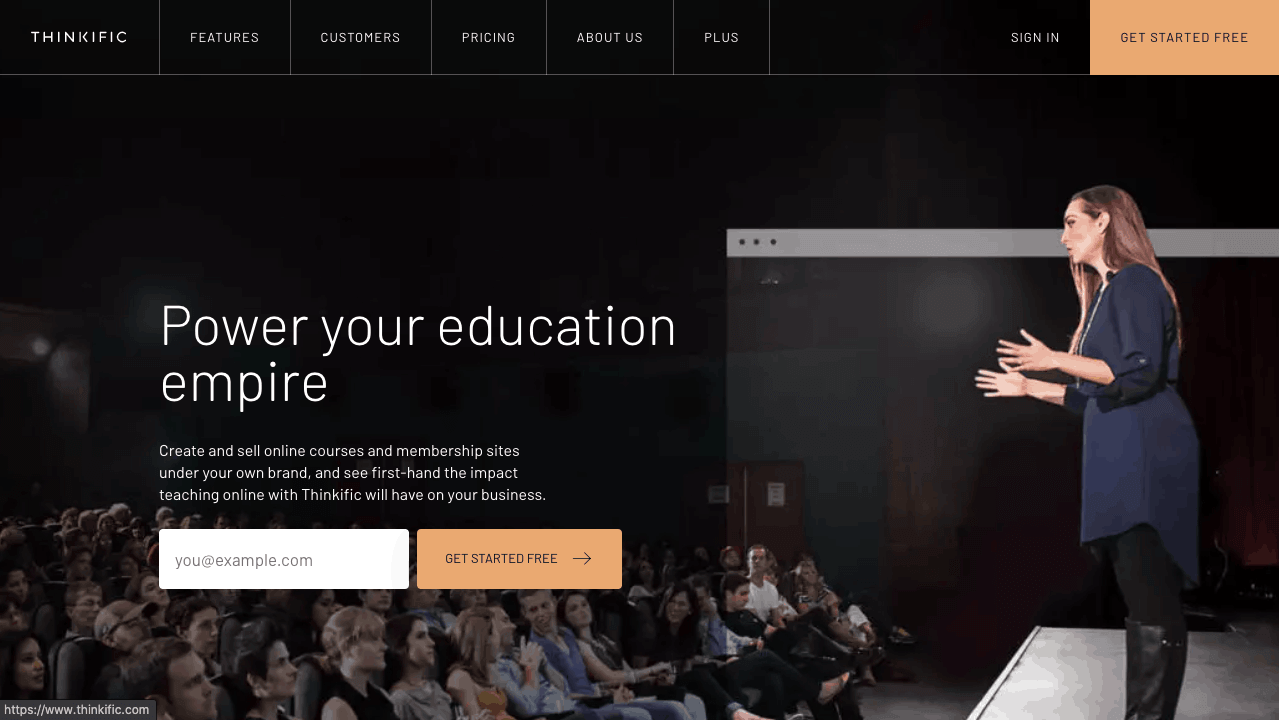 But what makes Thinkific stand out is its amalgamation of all the tools an educator needs to sell online courses.
It offers a drag-and-drop builder for website development. You don't need to learn code or HTML to create the perfect site for your online coaching business.
Thinkific allows course creators to promote their business seamlessly. You can easily integrate multiple third-party apps and platforms with Thinkific. We'll dig into its unique marketing features in the following sections of this article.
Lastly, it has robust student management features that allow educators to track student progress using automated emails and reminders.
How Many People Use Thinkific?
I said earlier that you don't have to take my word when I say that Thinkific is one of the leading platforms for course creators. Here is why.
More than 75 million courses have been taken on Thinkific.
Thinkific has a community of over 50,000 creators.
People from 190 countries are using Thinkific.
Educators have sold online courses worth over $650 million through Thinkific.
Thinkific has only grown stronger since its inception. With online learners increasing around the world, the platform will only get better from here.
Who Can Use Thinkific?
Thinkific is a course creation platform, which means anyone trying to start an online coaching business can use the platform.
Some of the primary users of Thinkific include:
Business coaches
Entrepreneurs
Online educators
Academic institutions
Digital marketing platforms (Hootsuite)
And let me clarify one of the biggest myths about online courses – you don't need technical skills to launch your online course, at least on Thinkific.
Thinkific allows you to build courses with zero technical knowledge, promote your online courses through robust marketing tools, and provides a built-in progress tracking system.
Let's have a look at Thinkific's top features and factors you need to consider when creating an online course.
Thinkific Review: 9 Features to Consider When Creating Your First Online Course.
In order to provide a hands-on experience, we created a review account for ourselves.
Thinkific offers a simple user interface, a step-by-step course-creation process, and training videos. You don't require technical skills to create a course on Thinkific.
For users with limited online experience, Thinkific offers terrific training materials.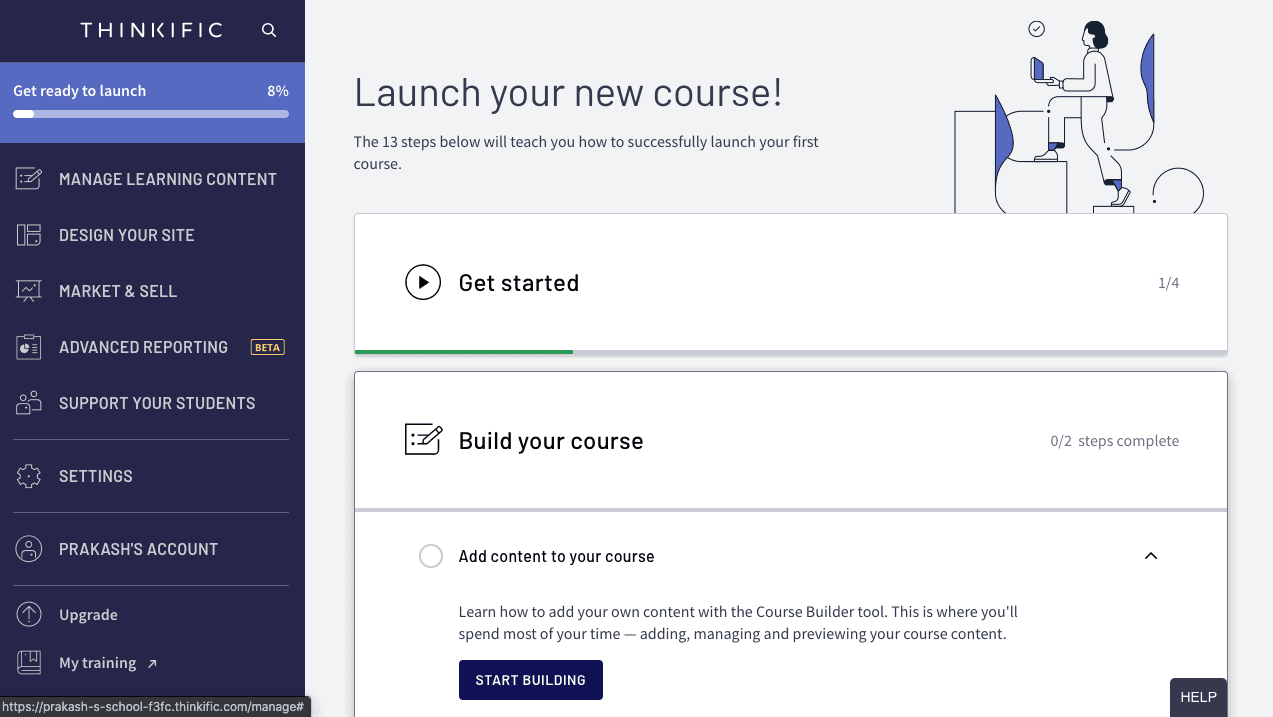 1. Thinkific Course Builder Module.
As a platform for creating online courses, Thinkific gets full marks for its content versatility, ability to create different membership levels, custom course appearance, and drip content features.
Content Support.

Keeping online courses interesting can be challenging for most educators.
Thinkific supports at least 12 different content formats for online courses.
Video
Quiz
Multimedia
Text
Survey
PDF
Audio
Downloads
Presentations
Brillium exams
Assignments
Live feed (beta)
For content creators migrating from other platforms or having existing material, Thinkific allows them to add multiple content pieces with its 'Bulk Importer.'
Course Appearance Customization.
Thinkific educators can upload custom images and descriptions for individual courses.
Thinkific paid plans offer higher levels of customization. You can choose different color themes (light or dark), change the color and font of your website, add lesson labels (the type of lesson), and a course player logo.
If you're a business coach or influencer, these white-labeling options help you highlight your personal brand in a strong way.
Membership Levels.
As an educator, providing access to your online courses must be accompanied by a proper revenue strategy. Thinkific allows educators to create different membership levels. Here are the membership levels we found during our research.
Free membership plan
One-time payment
Subscription membership
Monthly payment plan
Custom pricing options
Although, you'll need access to Thinkific's Pro plan to use these membership options.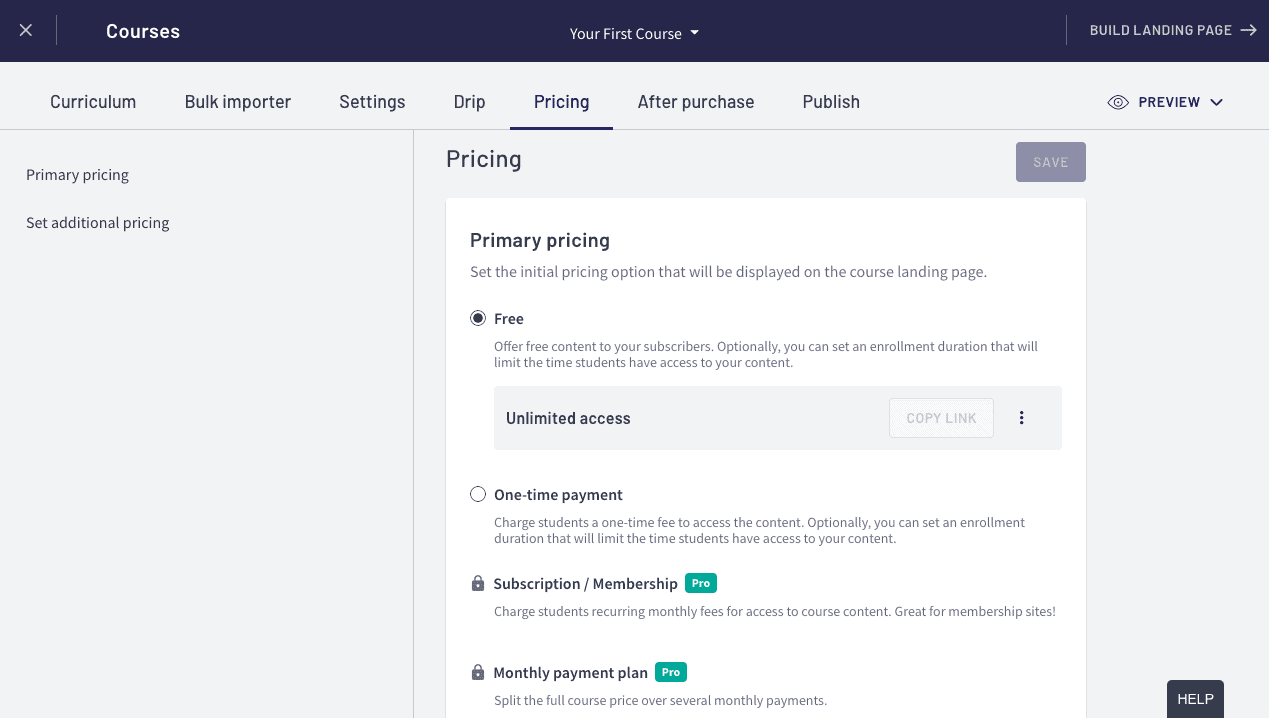 Drip Content.
One of the benefits of using Thinkific for your course is its ability to offer drip content. As a coach, you may require your students to cover previous lessons to implement the ideas successfully.
Drip content allows you to schedule content release in accordance with user milestones, such as student enrollment date, student course start date, and custom calendar days.
Thinkific Course Completion Certificates.
The online learning experience can become stale without providing proper motivation. As an online educator, you need to keep your students motivated.
To help with this, Thinkific allows educators to create professional course completion certificates.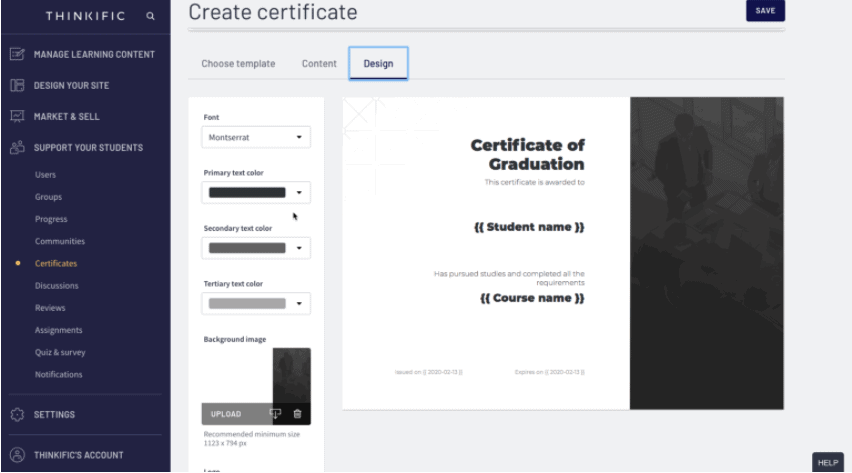 You can choose pre-loaded certificate templates or even customize certificates with your brand image. Thinkific provides options such as adding your brand or school logo, changing fonts and colors to match your brand, and assigning a single certificate to multiple courses.
2. Thinkific Website Builder.
Your website plays a critical role in the success of your online coaching business.
Thinkific ranks high when it comes to creating a website for your online school. We reviewed multiple options across different learning management systems (LMS) and couldn't be any more satisfied.
Here is what Thinkific's website functionality provides.
Drag-and-Drop Page Builder
For someone not associated with the technology world, creating a web page, handling HTML, or editing CSS could be a big challenge.
Thinkific makes it a breeze to create a page for your course or any other pages of your website.
You can choose between different sections, including banners, call-to-action, checklist, countdown timers, image gallery, reviews, videos, and much more. Adding a new section requires you to simply drag the element to its desired position.
You can choose from default page templates or create entirely new designs for your website.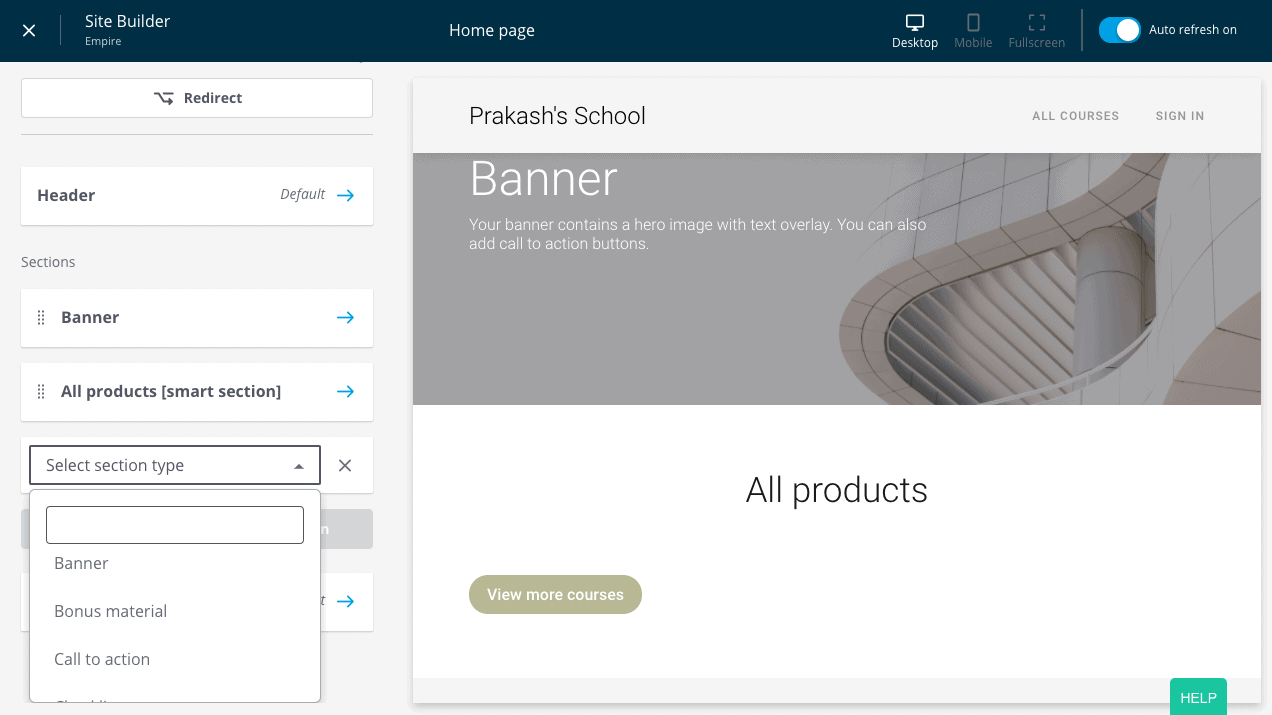 Theme Library
Another exciting feature that we found in Thinkific is its pre-built theme library.
Instead of creating a website from scratch, course creators can choose a template as their foundation. Thinkific offers multiple themes and a simple customization interface.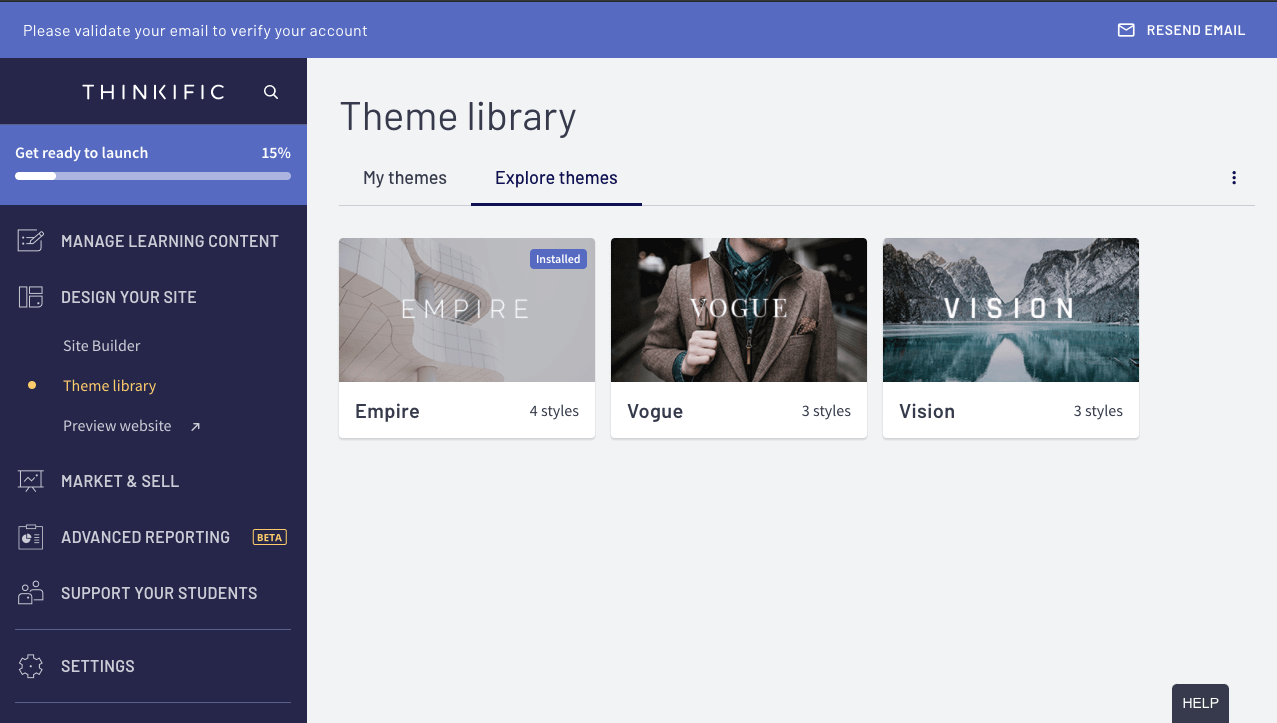 As of now, there are three different themes with ten variations available to course creators.
Add Custom Domain
Thinkific allows course creators to use custom site URLs for their course website, although the functionality is available with paid plans only.
If you're just starting your online coaching business, you can use a free subdomain Thinkific offers to members under the FREE subscription plan.
SSL Certificate
SSL is a must for all websites nowadays. Not only does it secure any information your students may share on your website, but it also ensures that your site doesn't show a 'Not Secure' warning in the Chrome browser.
Thinkfic offers a basic SSL certificate for all the plans. If you want to use your custom SSL, you have to upgrade to the 'Premier' plan.
White Labeling Solutions
Thinkific provides an option to remove its branding for course creators' websites, i.e., 'Powered by Thinkific' text.
If you're a business coach or want to use your branding, you will need the Pro plan with the Growth package to remove Thinkific branding.
3. Thinkific Payment Options.
Providing flexibility with payment methods is another critical component of selling online courses. Your students should be able to choose a payment method they're comfortable with.
Thinkific provides support for both Stripe as well as PayPal.
Stripe offers card payments, both credit cards or debit cards. PayPal, on the other contrary, is available in over 200 countries, which means your students are likely to be familiar with the payment processor.
Another important factor we discovered about Thinkific is its direct payments to the sellers' PayPal or Stripe account. There are no holding periods or waiting time for payments. You'll have access to your payments immediately.
Thinkific allows course creators to add custom conversion elements to their checkout pages, including reviews, videos, and the ability to upsell. You can implement one-click upsells on the 'Thanks for enrolling' page.
4. Thinkific Marketing Tools.
Promoting your online course should be the cornerstone of your marketing strategy.
Thinkific, surprisingly, has some amazing tools and marketing integrations for your online courses.
Coupons
One of the best ways to motivate your prospects for sale is to offer a discount. Thinkific allows course producers to create coupons for an instant discount.
You can choose to offer a percentage discount or a fixed discount. It is possible to generate multiple coupon codes for every course.
Your students can apply it at the time of checkout, although there is an option for auto-application of coupons when buyers directly land on your checkout page.
Sales Widgets
Promoting your content on partner networks or websites is another excellent way to boost your sales.
Thinkific offers sales widgets for easy marketing. You can use these code snippets on network websites for driving sales to your courses. You can use different variations, including buttons or course cards.
Third-Party Integrations
If you're already using marketing tools, such as Mailchimp or Aweber or any other marketing platform, Thinkific allows you to connect these email marketing platforms to your Thinkific account.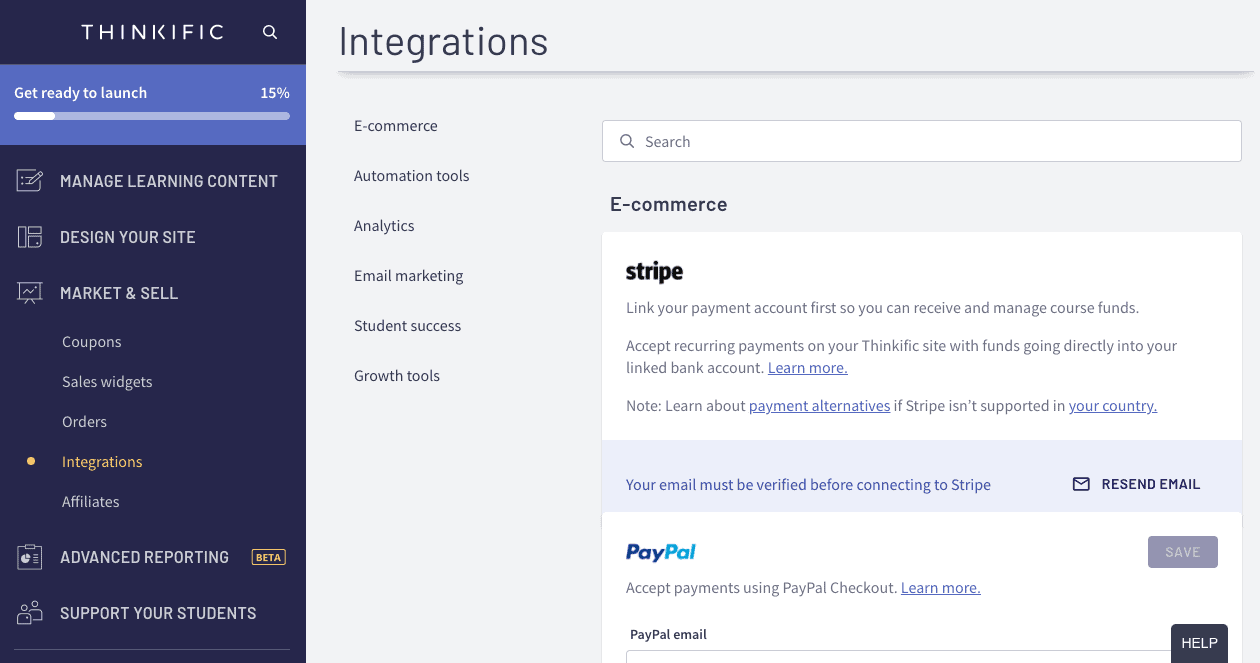 We found third-party integrations for various categories, including:
E-commerce: Stripe, PayPal, Shopify, Stunning
Automation: Zapier, Infusionsoft
Analytics: Google Analytics, Facebook, Segment.io
Email marketing: Mailchimp, ConstantContact, ConvertKit, Aweber
Student success: Zoom, Accredible, Disqus
Growth tools: Sumo
Affiliate Program
One of the best and most popular digital marketing tactics is to work with affiliates to promote your courses.
Thinkific allows you to add affiliates for your courses. You can enroll your existing or new students as affiliates or simply promote your affiliate offers to third-party users.
Thinkific enables you to track your affiliate program and approve commissions. However, you have to make payments to your affiliates outside the Thinkific platform. It doesn't support direct payments at the moment.
5. Thinkific Reporting Capabilities.
Creating an online coaching business requires various systems in place. The ability to track your sales, along with student engagement, is a critical aspect of this process.
Thinkific comes with a robust reporting system. You can get real-time insights into your business with Thinkific's matrices.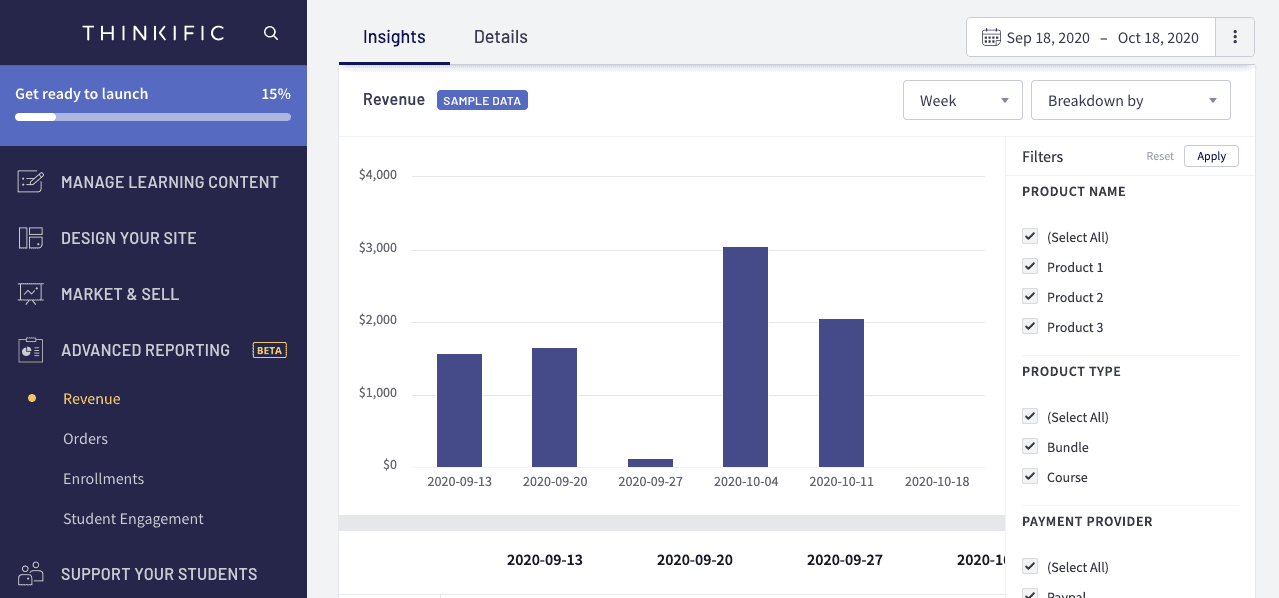 Thinkific is experimenting with its advanced reporting capabilities (Beta), but we already like what we see.
Advanced reporting allows course creators to track:
Revenue: You can track your overall revenue using this segment. Thinkific provides multiple filters, allowing you to identify which courses and channels are bringing the most sales. You can use several filters, including courses, course types, payment providers, payment type, customer type (new or returning), and similar categories.
Orders: This section helps you review completed orders for different periods. You can segregate orders using different filters, including coupons, payment method and type, and types of students.
Enrollments: The enrollment section allows you to track free and paid enrollments over time. It is excellent if you're trying to boost course sales by offering a promo course or free course to your students.
Student engagement: In order to provide content that ensures the highest student learning and experience, Thinkific offers insights into how students are using your course. You can check their interaction with different media types, the average time required to finish a course, quiz scores, and similar student data.
6. Thinkific Student Management.
The student management module is at the core of any LMS. Thinkific excels when it comes to a user-friendly student management system.
Thinkific has a seamless student onboarding process, providing all the necessary details to new enrollments through emails, notifications, and the ability to participate in relevant communities.
For online course creators, you can add clear segments, filters and use different Thinkific features to develop a comprehensive learning ecosystem.
Note: Thinkific provides the ability to enroll unlimited students in your courses for all the plans (including its free plan).
User Groups, Communities, Discussions
If you are creating a new course, one of the primary factors to consider is to drive user interaction. Thinkific provides multiple features for promoting student activity within your course. You can create groups, communities, and discussions surrounding course content or other topics.
Groups: Thinkific allows you to divide your students into different cohorts using groups, although this feature isn't available with the basic plan. If you're offering a free course to drive sales into high-value courses or a course bundle, you can easily segregate these users into a different group.
Communities: You can improve the course building process and overall user experience by creating communities. These communities provide a platform for vibrant, meaningful discussions among your students.
Discussions: It's a common tendency among potential buyers to check community discussions before enrolling in membership sites. Thinkific allows you to add discussions to your online coaching website. Members can check the complete storyline and understand more about the progress made by your previous students. It's an effective way to promote course upsells.
Student Progress Reports, Reviews, Certificates
Before creating unlimited courses within your online academy, you need to understand how students feel about your courses. Most new educators will be surprised by the learning curve involved in this process.
Thinkific has multiple features to track student progress and feedback, including progress reports, reviews, and certificates.
Student Progress Reports: Progress reports help you analyze the progress of your enrolled students. You can track student progress across different courses, completion rates, and sign-in activity.
Reviews: If you are seeking feedback from your students, reviews are a great way to do that. Additionally, you can use reviews to boost your sales. One of the Thinkific features that come in handy is the ability to edit reviews and embed them in your course's landing page. You can use reviews on your sales page or throughout your website to boost customer confidence.
Certificates: Another reason why Thinkific is a popular course creation tool is its ease of use. You can create course completion certificates by simply choosing one of the available templates. Thinkific allows you to use custom image backgrounds for course certificates.
Assignments, Quizzes, Surveys
An integral part of any course creation platform is its ability to gauge the progress of a student. Thinkific provides multiple testing methods to ensure that your students are taking the course well.
You can create assignment lessons on Thinkific. Thinkific allows you to add a sample file or template file for students. The maximum size for student submissions is 100MB, which will suffice most worksheet-based tests.
You can also add multiple quizzes to your Thinkific course. You can add one-answer or multiple-answer questions in a quiz. Thinkific provides a WYSIWYG editor, allowing you to easily add graphics or videos to your quizzes.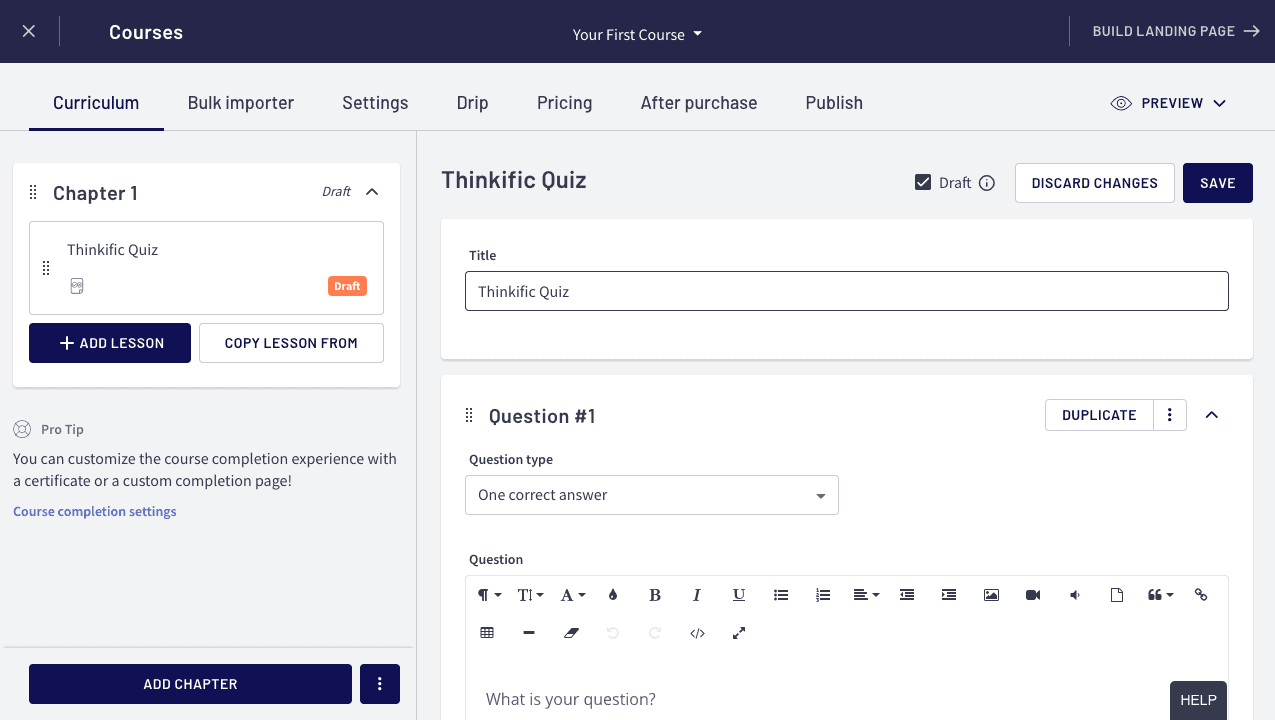 Thinkific allows educators to create a question bank for every quiz. The platform will choose random questions for every student, helping you create unique quizzes.
If your course involves webinars or live classes, adding surveys could be a brilliant idea to identify the learning outcomes or student preferences. You can also embed surveys within your course to gain critical student insights.
7. Thinkific Data Security.
Identify theft instances are on the rise. A careful analysis of data from the Federal Trade Commission indicates a consistent growth in data theft cases.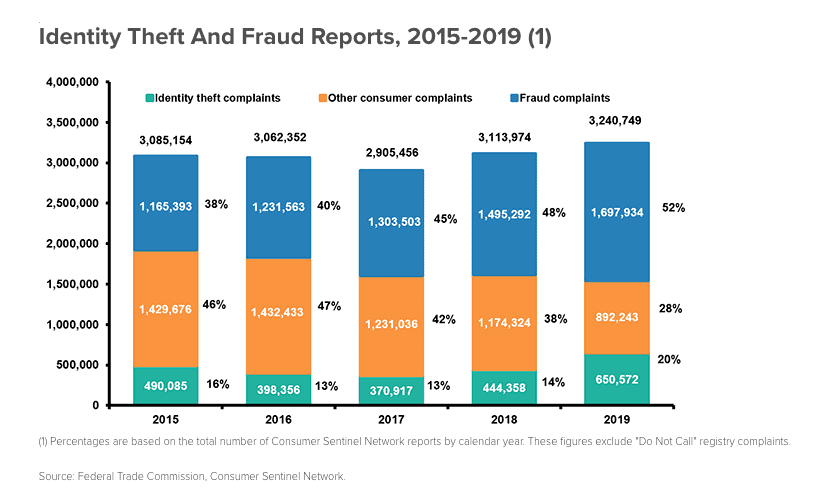 As an online educator, these stats could be worrisome, especially if you're using plugins to run your courses (WordPress).
Thinkific takes care of any security concerns you may have. The course creation tool offers free SSL encryption with all of its memberships, even the free plan.
Thinkific uses secure cloud hosting to protect yours as well as your students' data. If you're habitual of taking daily backups of your previous website or courses, Thinkific offers a huge relief with automatic backups.
Thinkific applies any updates automatically across all the websites. If you're using Thinkific API for a private course, you may want to check Thinkific's API documentation.
In short, you don't have to worry about the security of your data. Thinkific lets you focus on what you do best, making awesome courses.
8. Thinkific Pricing Plans.
Now that we have discussed at length why Thinkific is one of the best course creation tools out there, it's time to look at its pricing structure.
Thinkific allows educators to start with a FREE plan, providing the ability to create up to three courses, enroll unlimited students, and get instant access to funds. Educators get limited content types, but it's a good enough plan for anyone testing the waters.
Here is what the Thinkific plans offer and their pricing.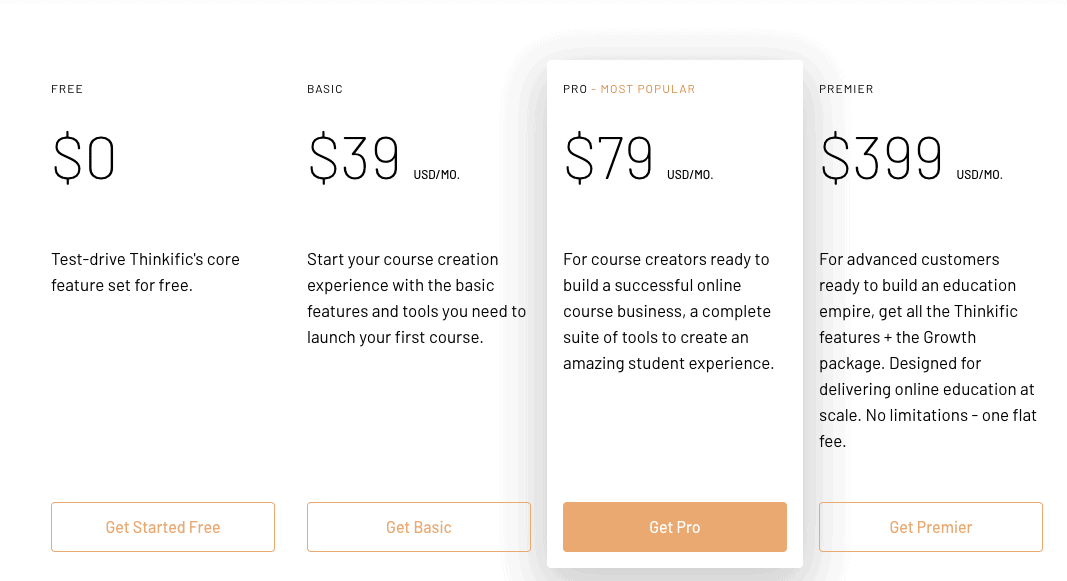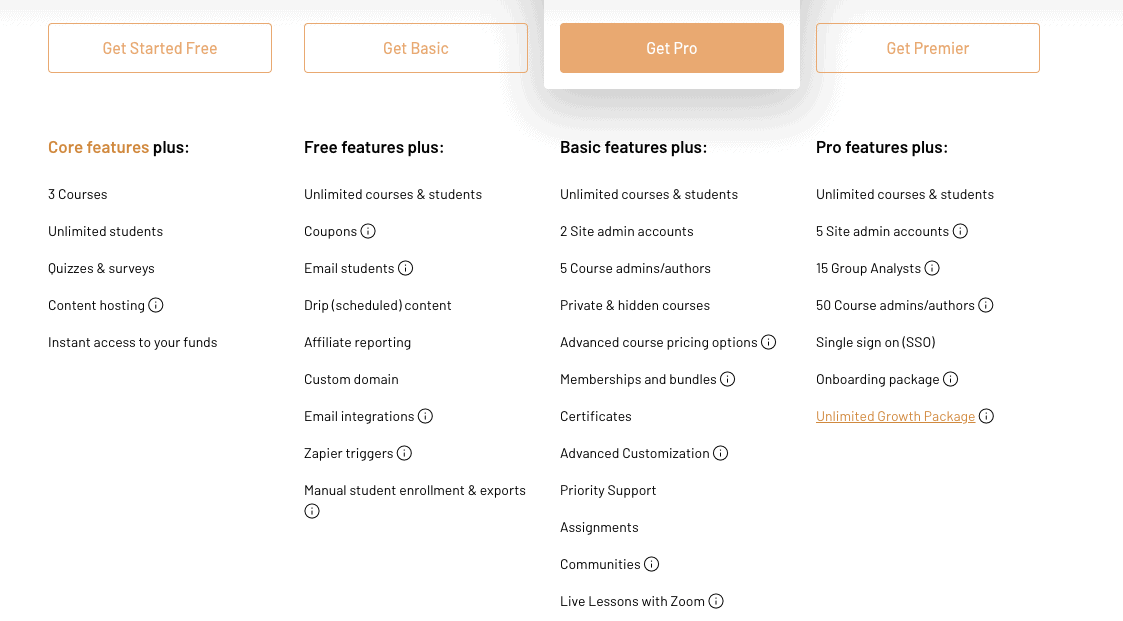 Free plan: Free plan is ideal for someone trying online coaching or course creation for the first time. It offers some basic features to start your first course.
Basic plan: If you're ready to take your online coaching forward, the Basic plan gives you access to all the necessary features for creating a good course, along with the option to choose a custom domain.
Pro plan: Thinkific Pro plan targets business coaches or professionals who are ready to take their coaching business to the next level. Thinkific provides all the features you'll need to run a full-fletched course, with all the bells and whistles. Some of the most exciting features include live lessons with Zoom, certificates, priority support, and the ability to add up to 5 course-admins or authors.
Premier plan: If you have a successful online coaching business, and you want to grow your business into an enterprise, the Premier plan is right for you. The premier plan is designed for maximum automation and growth set up. You can create five site admin accounts, add up to 50 course-admins, and have an onboarding package to train authors quickly.
Beyond these plans, Thinkific also offers Plus plans that are ideal for small to medium-scale businesses seeking platforms for training and learning management.
9. Thinkific Customer Support.
As a new course creator, you may want help in getting started. Thinkific does well when it comes to customer support.
Its support options include:
Email support: Thinkific provides a robust email support system. Its standard response time is within 24 hours or even sooner. The platform continues to send emails that will help you get started and keep you motivated throughout the course creation process.
Phone support: Thinkific shines when it comes to phone support. None of the other platforms we review offer phone support, giving Thinkific an edge over its competition.
Learning center: Thinkific has created a vast learning center. Course creators can check step-by-step video tutorials to use different Thinkific features.
Active Facebook community: In addition to its direct support options, Thinkific has an active Facebook community. You can expect a quick response from other community members. Additionally, Facebook provides you a platform to connect with other course creators.
Thinkific Reviews: Pros and Cons
Thinkific is one of the best course creation tools we have come across during our research. However, a fair review must explain the shortcomings of the platform, so here we are.
Thinkific Pros
Free basic plan: Thinkific is one of the only course creation platforms to offer a free basic plan with the ability to launch a course. You can upgrade when the need arises, but there aren't any initial charges.
Nil transaction charges: Thinkific doesn't have any additional transaction charges, which is a good feature for most educators.
Instant fund access for all plans: Irrespective of the plan you're using, Thinkific offers instant access to your funds. This is a feature even platforms like Teachable and Udemy lack.
Custom domain: For those planning to use their own domain, Thinkific provides custom domains from its Basic plans.
Phone support: Thinkific is one of the very few platforms offering phone support. Additionally, Thinkific's email support is quite responsive.
White-labeling solution: If you're a business coach or a small business, Thinkific.com offers white labeling with Growth packages. You can get rid of Thinkific branding for good.
Robust third-party integrations: Thinkific doesn't offer integrated email support or a robust marketing module, but it makes up for these missing features with third-party integrations. You can find most of the popular email marketing platforms, analytics platforms, and two of the most used payment gateways.
Thinkific Cons
Tricky navigation: Thinific ranks high on most parameters, but its navigation isn't one of those. The platform has upgraded its navigation and visual appearance, but it lags its opponents in terms of sleek appearance.
Two-step checkout process: Thinkific has a two-step checkout process, which could heighten the card abandonment ratio for educators. The platform requires users to create an account before purchasing a course. As many as 22% of users abandon their cart when required to create a new account. Thinkific needs to streamline its checkout process.
No course marketplace: Thinkific doesn't offer a course marketplace, which could be a major challenge for its free users. Without email integrations or marketing plugins for the free plan, course creators will find it difficult to market their course.
Executive Summary
Thinkific is one of the best course creation tools on the market. Thinkific's simple design, rich features, and pricing put it at the head of the pack.
As a course creator, the most important part of your business strategy is to understand the features you require from a platform. Once you have a plan in place and the features to match your requirements, you're ready to create your online education empire.
As a platform, Thinkific is feature-rich and offers all the necessary tools to make money online by selling highly-profitable online courses.
To dive deeper, you can check out my other course platform comparisons:
Have you used Thinkific? Let us know what you think in the comments below.
Disclosure: I may receive affiliate compensation for some of the links below at no cost to you if you decide to purchase a paid plan. You can read our affiliate disclosure in our privacy policy. This site is not intending to provide financial advice. This is for entertainment only.
---
Last Updated on February 5, 2022 by Adam Enfroy