5 Best Squarespace Alternatives For Your Business (2022)
With so many content management systems (CMSes) and website builders available, it can be hard to determine the right solution for your business.
If you've searched Google looking for the best place to build your website, you've probably noticed Squarespace at the top of a few lists — and for good reason.
Squarespace is one of the best website builders for visually focused brands. However, its functions can be limiting.
Whether you're looking for complete customization or a simpler set-up process, there are many Squarespace alternatives for your company to consider.
We've put together a list of the five best options to help you compare:
HubSpot CMS
WordPress
Wix
Shopify
Weebly
Before we dive in, let's take a look at Squarespace and its pros and cons.
Let's get started.
Disclaimer: Please note, I may receive affiliate compensation for some of the links below at no cost to you if you decide to purchase a paid plan. However, these are the best tools I have tested for launching and running a website. You can read my affiliate disclosure in my privacy policy.
What is Squarespace?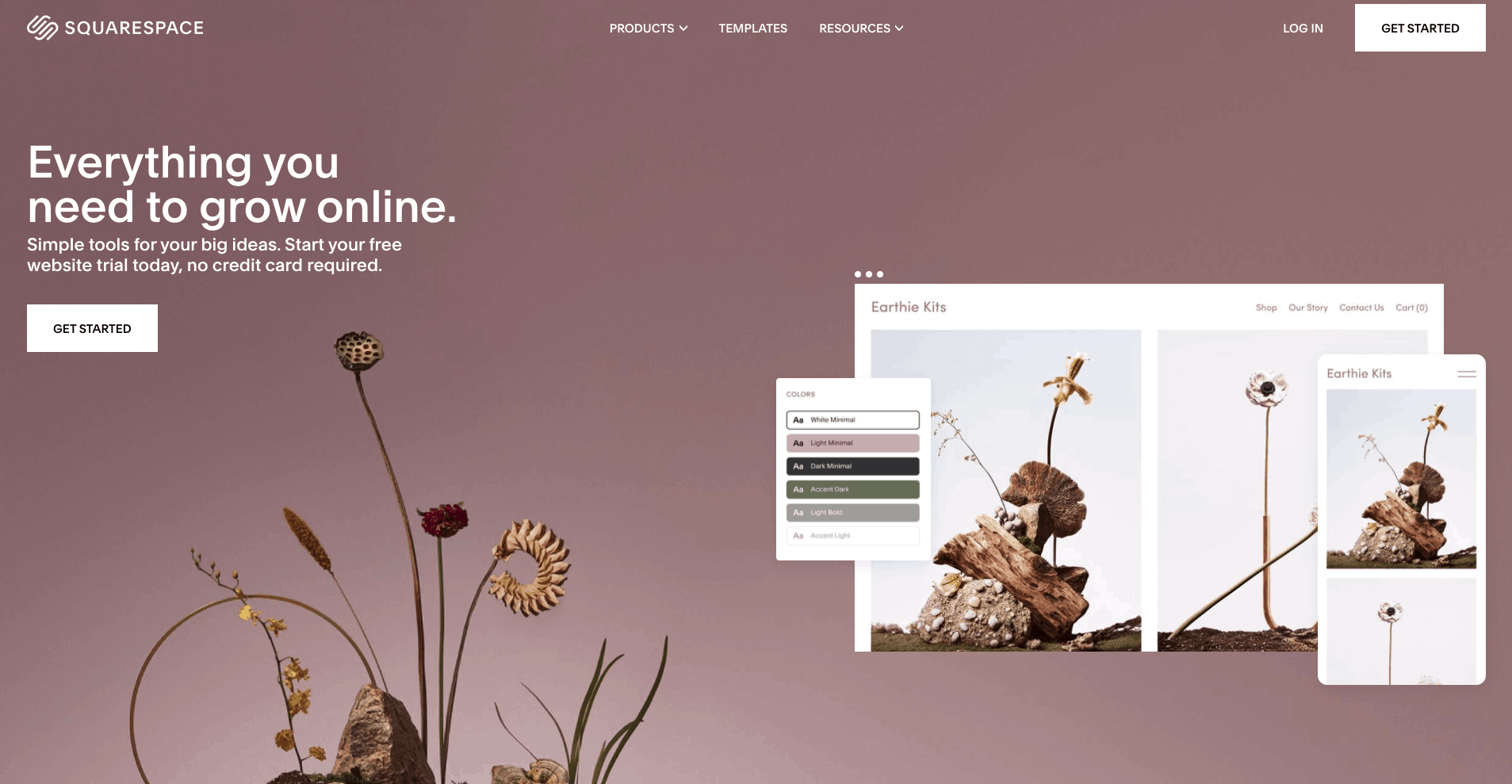 Squarespace is a lighter content management system (CMS). It's an all-in-one option for designing your website, hosting it, creating a domain name, and selling online.
Squarespace is best known for its fully responsive and professionally designed templates — with more than 100 theme selections.
Each theme is built for easy customization using Squarespace's drag-and-drop website builder, so you don't have to learn how to code to create a professional website. The CMS also has built-in search engine optimization (SEO) features, dozens of out-of-the-box features, and audience insights.
Squarespace was initially developed as a blogging platform, so there's no shortage of powerful tools that you can make use of if you're a blogger. A comprehensive dashboard lets you manage your publishing cadence, customize your contributor settings, and track analytics.
Best of all, if you've already started a website on WordPress, Tumblr, or Blogger, you can import your content to Squarespace.
However, Squarespace is not a one-size-fits-all solution. In exchange for ease-of-use, it compromises on flexibility. Only a handful of extensions are offered — mainly geared toward e-commerce. It's also more expensive than other comparable options.
To dig a little deeper into Squarespace, let's go over what the platform gets right and what could be improved.
Squarespace Pros:
Here are the main advantages of Squarespace:
Professionally designed templates: All of Squarespace's templates are responsive and stylish, so your website will look polished and mobile-ready.
Built for blogging: Squarespace offers comprehensive tools to design and manage a blog. It also supports podcasts.
No coding experience required: A built-in drag-and-drop editor makes it easy to customize your website.
Year-round customer support: If you need help or have questions, Squarespace offers 24/7 support.
Included SSL certificate.
Squarespace Cons:
Squarespace has its drawbacks, just like any of the other Squarespace alternatives on this list.
Consider these disadvantages:
Higher cost: Basic plans start at $16 a month, but for any premium features, you'll need to invest in the business tier at $26 a month.
Limited extensions: Squarespace has extensions you can add to your website, but there aren't many, and most are specific to e-commerce.
No backup or restore options: Using this CMS, you can only export data manually, and you have to rely on Squarespace to get your website running again if it goes down.
Restrictive templates: Unless you have a lot of high-quality imagery, Squarespace themes can be limiting. Also, despite its drag-and-drop builder, Squarespace's backend functionality is harder to figure out than most other CMS software options.
What Are the Best Squarespace Alternatives?
Squarespace is an excellent website builder, but that doesn't mean it's the best solution for your business website. There are plenty of Squarespace alternatives to choose from — no matter what kind of company it's for.
We've outlined the best choices in the remainder of this guide.
If you're looking for more robust Squarespace alternatives, try HubSpot CMS. This is a fully-integrated, cloud-based content management system. It combines WordPress's flexibility with some of the user-friendliness found in a simple website builder.
For example, HubSpot CMS allows you to customize your content using a drag-and-drop editor, includes hosting, and enables you to easily manage the content for your website. In many ways, HubSpot CMS acts as a managed platform, like Squarespace.
Also, unlike with WordPress, you don't have to sort through thousands of premium plugins to make use of basic functionalities. With HubSpot CMS, the essential features are built-in — also comparable to how Squarespace offers most functionality built-in.
Take a look:
Built-in security features
Built-in SEO optimization
Adaptive testing
Native personalization and a/b testing tools
Mobile-optimized themes
Multi-language content manager
The list goes on, but what ultimately sets HubSpot CMS apart is that it's built on top of the HubSpot platform. This means HubSpot's customer relationship management (CRM) tool is integrated with the CMS — combining sales and marketing functions for better lead conversion.
However, HubSpot CMS is more complex to learn and pricier than Squarespace. So, if you're looking for simplicity, this Squarespace alternative probably isn't the best choice for your needs.
CMS Hub Pros:
Sales and marketing integration
Multi-lingual support
Built-in security measures
CMS Hub Cons:
Higher cost
Limited themes and plugins
Best Squarespace Alternative For: Marketers, content developers, internet technology (IT) teams.
Price: Starts at $300 per month for professionals and $900 per month for the enterprise level.
Wix is a popular website-builder due to its user-friendly interface and affordability. It features web hosting, mobile-optimization, hundreds of free and premium apps, and SEO tools.
Wix is probably the most similar to Squarespace in terms of sleek themes — and they're easier to customize. Yes, they both have a drag-and-drop builder, but Wix's editor is a bit more intuitive. That also means you don't have to know how to code to use Wix to build your website, unlike WordPress.
On the flipside, Wix uses absolute positioning, so you have to create two versions of your website to be mobile-friendly. Squarespace's templates are fully responsive, so they are already built for mobile.
With Wix, you also have the choice between a free version or premium plans.
Wix Pros:
Beginner-friendly
Basic SEO features
Good selection of themes and apps
Automatic backups
Wix Cons:
Limited sub-levels for navigation
Free website builder is ad-supported
Can't easily switch templates
Best Squarespace Alternative For: Bloggers, small businesses, startups, creatives, freelancers.
Pricing: Starts at $13 per month for the basic paid tier, with the enterprise level as high as $500 per month.
According to historical trend data from W3Techs, WordPress powers over one-third of the web. It's by far the most popular of all these Squarespace alternatives.
Compared to Squarespace, WordPress.org (not quite the same as WordPress.com) is an open-source content management system. This means you'll need a third-party web host to get your website online.
The major difference between WordPress.org and Squarespace is the level of control you have over things like choosing a hosting provider, customizing your website design, and adding in desired functionality. WordPress offers more options on each account, at several price points.
While some consider outsourcing their web hosting as a negative, others feel it's part of WordPress's flexible allure. Additional features that set WordPress apart are it's highly customizable nature, endless plugins for CRM, email, live chat (just to name a few) and theme options, and the free price tag.
That said, you should expect to incur some costs in terms of your hosting provider and optional premium add-ons.
WordPress started as a blogging platform, so it's ideal for blogs and publications with rich content. However, using this CMS to its full extent requires basic knowledge of HTML and CSS, and any backend updates or security issues are your responsibility — unlike Wix or Squarespace. For this reason, WordPress usually comes with a higher learning curve.
WordPress Pros:
Thousands of plugins and add-ons
E-commerce features via WooCommerce
Full website control
WordPress Cons:
Self-managed
Prone to security attacks because of popularity
Requires working knowledge of coding
Best Squarespace Alternative For: Bloggers, e-commerce, news, large businesses.
Pricing: Free (though you should plan for hosting costs and the cost of any premium add-ons).
4. Shopify
Shopify is considered the king of e-commerce and is built exclusively for online businesses. Its hosted platform powers over one million companies across the globe, and allows you to sell physical goods, digital products, and services.
Compared to tools like Squarespace, Shopify offers more features. It's also easier to navigate for beginners — thanks to its drag-and-drop builder. But both Squarespace and Shopify offer a managed platform experience that takes a lot of guesswork out of launching a website for those who aren't well-versed in code (while also limiting customization options).
The main difference is the purpose behind site creation: Shopify for ecommerce brands that need checkout functionality, Squarespace for small business owners who may or may not need ecommerce features.
With Shopify Payments, you can accept credit cards directly on the platform to avoid transaction fees. This feature is also PCI (Payment Card Industry) compliant and supports 3D Secure checkouts, so your customers can rest knowing their data is safe.
The Shopify ecosystem is another big benefit. With many CMS platforms it's difficult to find talent to work on that platform, whether on a freelance or full-time basis. Shopify, however, has a very large community of developers and agencies that specialize on that platform.
Some other key features of Shopify include:
Responsive website themes so you're mobile-ready
Built-in SEO functionality to help your website rank
Multiple currency enablement to accept local forms of payment
Thousands of apps for flexibility, from drop shipping to contactless curbside pickup
Comprehensive support offered 24/7
On the downside, Shopify is a more expensive e-commerce solution compared to Wix or Squarespace.
Shopify Pros:
Secure payment and checkout
Drag-and-drop website builder
Simplified shipping methods
Shopify Cons:
Higher cost
External payment transaction fees
Limited customization
Best Squarespace Alternative For: E-commerce, bloggers, brick-and-mortar stores, small businesses
Pricing: Starts at $29 a month for the basic option, $79 a month for the mid-tier, and $299 a month for the most advanced tier
5. Weebly
Weebly is another hosted website builder that's ideal for those who are less technical. Like Squarespace, it has responsive themes, a drag-and-drop editor, and e-commerce capabilities. It's also a managed platform that takes care of technical details like hosting and connecting a domain name.
Although it has fewer templates and offerings than both Wix and Squarespace, it's better for larger websites.
Why?
Weebly offers unlimited sub-levels for navigation, mobile-optimized themes, and better website editing tools. It also has more apps to choose from in comparison to both Wix and Squarespace. However, when it comes to building an online store, Shopify is more comprehensive.
Lastly, all of Weebly's free and premium plans include a nice feature selection.
For example:
If you don't need a highly customizable website and the flexibility of a CMS, Weebly is an excellent alternative to Squarespace. That said, expect a slightly higher learning curve when going with Squarespace.
Weebly Pros:
Responsive themes
More affordable
Easy website building
Shopping cart functionality
Weebly Cons:
No self-restore option
Limited e-commerce support
Free plan is ad-supported
Best Squarespace Alternative For: Beginners, bloggers, freelancers, small businesses, larger websites.
Pricing: Starts at $6 per month for the basic paid tier and goes up to $26 per month for the Performance option (billed annually) .
Final Thoughts: The 5 Best Squarespace Alternatives (2020 Review)
In 2020, it's essential to build a business presence online to keep up with changing market needs. While Squarespace is a popular option with beautiful themes, the platform is easy to outgrow. Luckily, there are Squarespace alternatives that are just as good, if not better.
Depending on your needs, other options to consider include Jimdo, Duda, and Webflow.
Whether you're looking for more control, simple editing, or cheaper pricing — you can find a solution to meet your needs listed above.
Remember to consider the functions most important to you seriously, so you select the best tool for your business. Do your homework, compare features, and start building.
You don't have to compromise the most critical features of your website. Get started with a powerful Squarespace alternative that's secure and customizable.
Disclosure: I may receive affiliate compensation for some of the links below at no cost to you if you decide to purchase a paid plan. You can read our affiliate disclosure in our privacy policy. This site is not intending to provide financial advice. This is for entertainment only.
---
Last Updated on February 20, 2022 by Adam Enfroy